Primary Education
Craft Curriculum Project
Let's Experience, Co-Create & Learn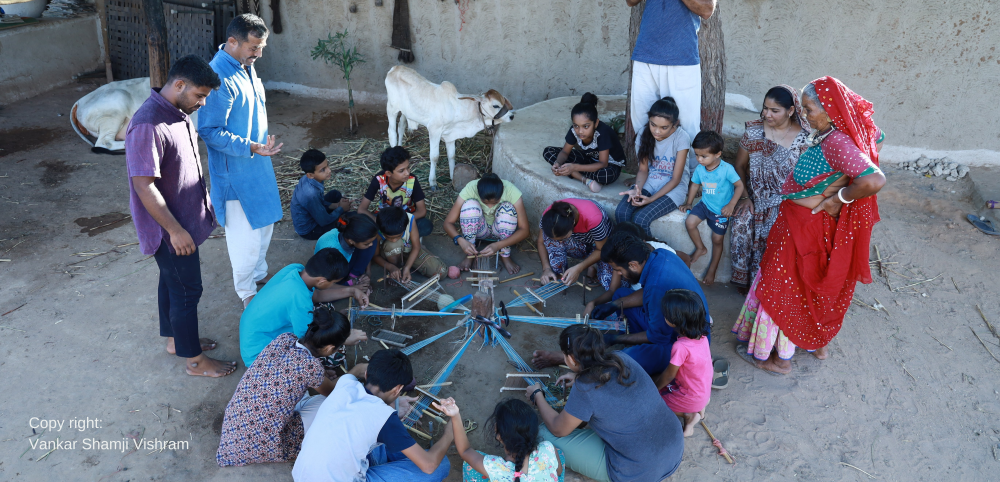 The Craft Curriculum Project is an initiative undertaken by Khamir that aims to reposition handicrafts in modern educational systems of Kachchh. To make teaching-learning spaces more inclusive and experiential, we use a systemic approach that relooks at primary education through the context of crafts such as spinning, weaving, pottery and block printing. For this, Khamir is developing a craft-based curriculum and pedagogy that contextualises various primary subjects including maths, science, social science and language which can be taught using child-centric experiential activities.
Why Integrate Crafts and Education?
"By education, I mean an all-round drawing of the best in a child and man-body, mind and spirit...Literacy in itself is no education. I would therefore begin the child's education by teaching a useful handicraft and enabling it to produce from the moment it begins its training." Harijan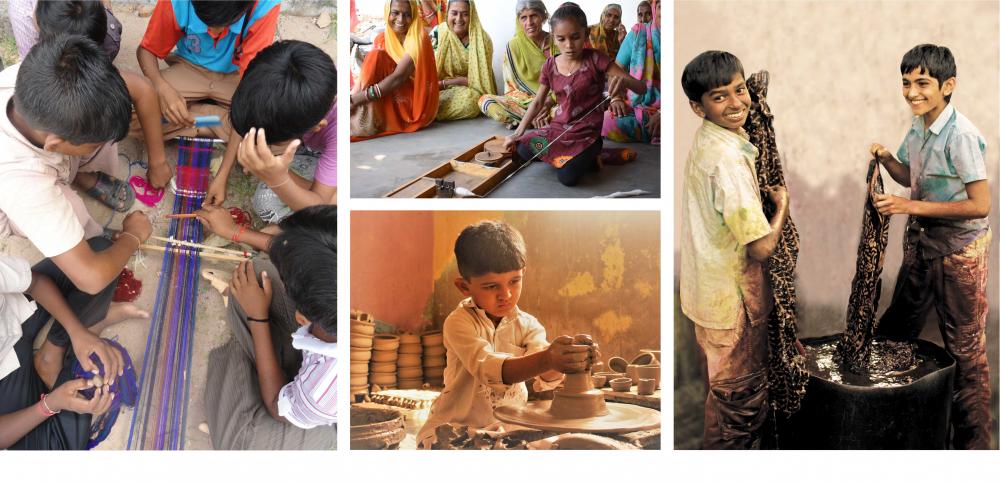 Children of Kachchh on a regular day in their homes
Crafts make the hands a tool that manifests thoughts and, in the process, builds a soulful connection to material and nature. Engaging in the process of creation frees the human mind, builds its cognitive and non-cognitive skills, rationale and a sensitivity towards ecology and humankind, making "experience" an integral part of learning in all educational mediums
Therefore, acknowledging and including the contribution of the age-old knowledge and wisdom within Kachchh's schools not only makes learning relevant to the student's immediate environment but also promotes learning that gets truly embodied as a child in not only practices the craft but builds a multidisciplinary understanding of various subjects through the craft ecosystem.
Most of the schools are based in the context of this ecosystem, which is spread across Kachchh with over 75% villages engaged in over 13 different types of crafts. However, they continue to exclude this ecosystem which is an immediate context of thousands of students across various rural and urban regions. With the education system grappling with existing systemic challenges such as rote learning and a high student-teacher ratio, crafts are ranked low in priority. They are mostly positioned as a gender-exclusive extra-curricular activity - failing to explore its scientific, cultural, ecological and livelihood inter-connectedness.

         Home of Shamji Vishram Vankar, Master Weaver, Bhujodi village                                   A typical government primary school in Kachchh
Our Approach
To ensure an inclusive merging of the traditional craft knowledge and modern knowledge system, we are building a craft curriculum for students of Grade 4-8. This curriculum finds application of the learning outcomes prescribed by the National Council of Educational Research and Training within the various craft ecosystems of Kachchh. 
Simultaneously, we also develop and implement a teaching-learning pedagogy that explores the amalgamation of craft and modern pedagogies and is inclusive of diverse learning styles of children. This is done with the help of a conjunction of teachers and artisans resource teachers. thereby making children become recipients of a holistic perspective of the context. Additionally, Khamir mobilises and orients parents, school management committees, parent teacher associations and Panchayats through a multistakeholder participative approach.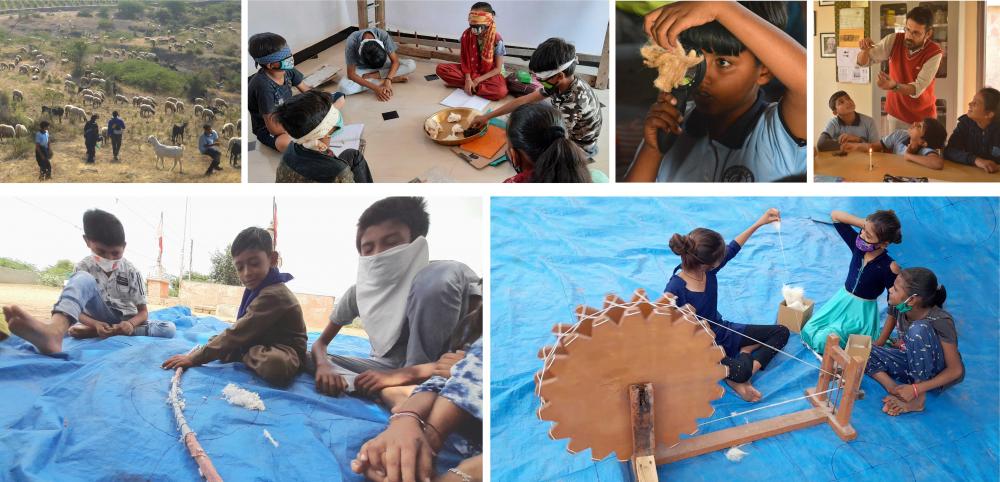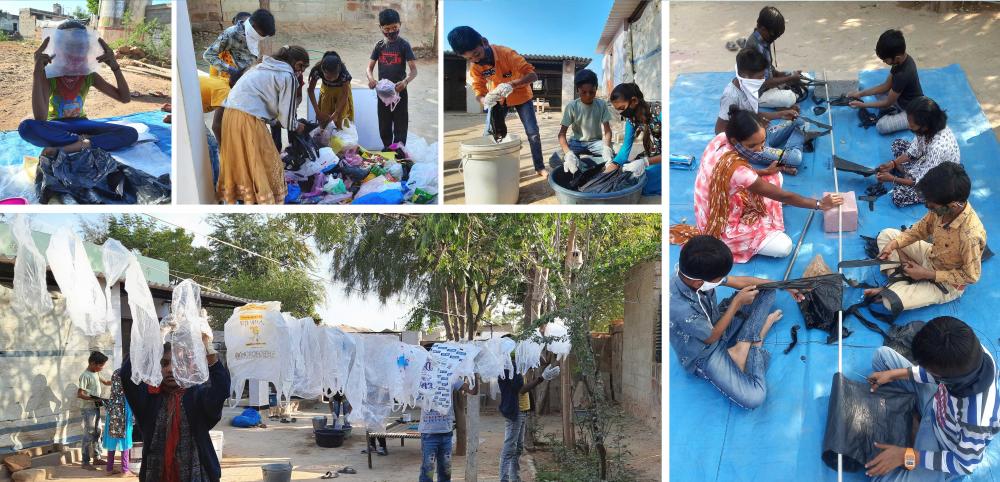 Students of Grade 5-8 from Awadh Nagar village and Shishukunj International School engaging in experiential activities to understand the wool ecosystem, as they went on an expedition with herders, explored wool as a fibre, conducted experiments on it and understood various science, maths, social science and language concepts through crafts such as handspinning and upcycled plastic weaving.
Support Us
If you are interested in the project, you can support us by donating in skills, time, kind or cash. We are open to volunteers from education, design and other relevant backgrounds to support our team of educators in enhancing our curriculum, designing child-centric content such as storybooks, games, etc
To support our activities and the children we work with, you can donate below 
We are accepting donations only in Indian Currency
---
Contact Us
To know more about the project or share your ideas,
email us at [email protected]